seit nunmehr etwas mehr als 24 stunden bin ich stolzer besitzer einer TUGcard.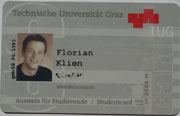 dem neuen studentenausweis auf der tugraz.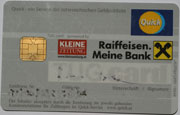 ich hoff der führerschein kommt auch bald in dem format, dann wird mein geldtascherl ein gummiring oder ähnliches. cool is der quickchip auf der karte! bargeldlos zahlen mit dem studentenausweis… der mesastempel ist auch auf ein simples M hinter der gültigkeit degradiert worden. so schaut das ganze aber auch aus wie aus einem guss. werbung hält sich in grenzen. mir gefällts…
No tips yet.
Be the first to tip!
Like this post? Tip me with bitcoin!
1133TkKZsuVePHuJqSTzb4aao9FfZSzvCY
If you enjoyed reading this post, please consider tipping me using Bitcoin. Each post gets its own unique Bitcoin address so by tipping you're not only making my continued efforts possible but telling me what you liked.