ahhh…. es ist schön ein prophet zu sein. ipod mini bekommt einen farb display und die festplatte wird durch ein flashdrive ersetzt. dadurch lässt er sich nocheinmal verkleinern und nennt sich jetzt ipod nano. und schön ist er auch noch….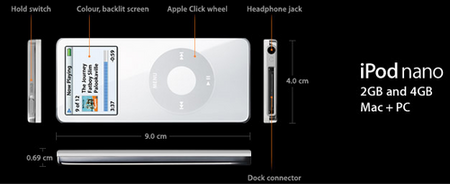 nicht einmal 7 mm dick. 9 cm lang und 4 cm breit. mit 42 g ist er nicht besonders gewichtig und läuft gefahr nicht gespürt zu werden.
apple.com/ipodnano
technische spezifikationen
den slogan find ich lieb:

No tips yet.
Be the first to tip!
Like this post? Tip me with bitcoin!
1EVy4A4DcMc6ZEVtygTDmLXbiKADJXXJ5q
If you enjoyed reading this post, please consider tipping me using Bitcoin. Each post gets its own unique Bitcoin address so by tipping you're not only making my continued efforts possible but telling me what you liked.