gimp steht kurz davor nativ in mac os x zu laufen. die library gtk+ wurde für mac os auf cocoa portiert. so würde nicht nur gimp sondern auch alle anderen programme mit gtk+ in verwendung unte mac os x laufen…
seashore, im screenshot zu sehen, ist eine testversion von gimp die unter cocoa läuft.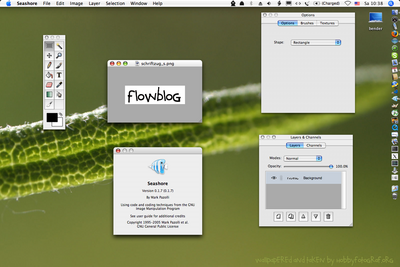 No tips yet.
Be the first to tip!
Like this post? Tip me with bitcoin!
12gVLzihSWg1y9nyYhbSTNroydZSnKkJUX
If you enjoyed reading this post, please consider tipping me using Bitcoin. Each post gets its own unique Bitcoin address so by tipping you're not only making my continued efforts possible but telling me what you liked.