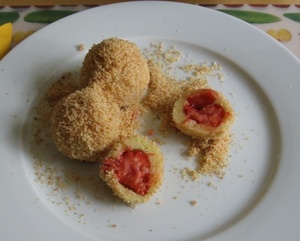 vorgestern habe ich erdbeerknödel gemacht. kann ich nur weiterempfehlen.
kochtechnisch ist das vielleicht nicht so eine herausforderung, aber genusstechnisch sind erdbeerknödel immer gut.
man nehme:
fertigen kartoffelteig. (nicht so gut wie selbstgemachter teig, aber es geht viel schneller

)
und viele erdbeeren.
mache den teig nach anleitung, und forme knödel. wichtig ist dass das wasser nicht zu stark kocht, sonst zerfällt einem jeder knödel!
semmelbrösel mit zucker in butter anbräunen und die fertigen knödel darin einrollen.
gutes gelingen und guten appetit.
ps: die erdbeeren lassen sich natürlich durch vieles ersetzen.
No tips yet.
Be the first to tip!
Like this post? Tip me with bitcoin!
1J6T5neTkQwQ5MLQzoapQuiuRBUAmKfumQ
If you enjoyed reading this post, please consider tipping me using Bitcoin. Each post gets its own unique Bitcoin address so by tipping you're not only making my continued efforts possible but telling me what you liked.