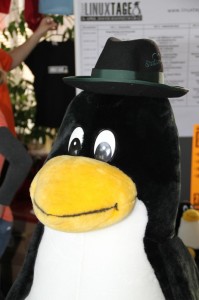 Am samstag waren sie wieder, die grazer linuxtage. das programm war vielfältig, die stimmung gut und die menschen massen kaum zu bändigen. die teilnehmerzahl dürfte bei ca. 500 gelegen sein. unter anderem gab es vorträge über blender, openstreetmap, mysql, openoffice, grml, LaTeX, ubuntu, postgresql und python zu hören. neben den vorträgen fand auch noch einen workshop zum arbeiten mit der shell und LPI und BSD prüfungen statt. an den ständen waren natürlich neben grml, gentoo, kde, die fsfe, funkfeuer, openstreetmap, viele andere vertreten.
da ich heuer das erste mal offiziell als fotograf mit von der partie war, durfte ich das treiben ungestört beobachten. konnte aber leider nur wenig vorträge besuchen. dafür sind die fotos hoffentlich umso aufschlussreicher. sie stehen ab heute online unter http://glt10.flo.cx/ unter der cc-by lizenz zum anschauen und zum download zur verfügung.
No tips yet.
Be the first to tip!
Like this post? Tip me with bitcoin!
1Axo9y6Vuq8ZnifNFsmEGwswmtZgmwv7Pr
If you enjoyed reading this post, please consider tipping me using Bitcoin. Each post gets its own unique Bitcoin address so by tipping you're not only making my continued efforts possible but telling me what you liked.