the original apple ear buds are not known for their comfort. so they are a good piece of old hardware to hack

i adapted them to have a shackle. this adds a lot of wearing pleasure and stability.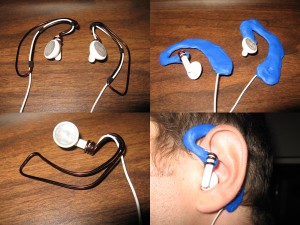 i took a wire to do the framing and some tape to fix the cable to it. then i coated the whole thing with sugru, apparently my new favorite working material.
No tips yet.
Be the first to tip!
Like this post? Tip me with bitcoin!
12qpxSChocS6feNkmw7EdbKytewuawK3Sg
If you enjoyed reading this post, please consider tipping me using Bitcoin. Each post gets its own unique Bitcoin address so by tipping you're not only making my continued efforts possible but telling me what you liked.