yesterday i installed snow leopard (10.6.1). BIG mistake; at least with a minor version number of "1″.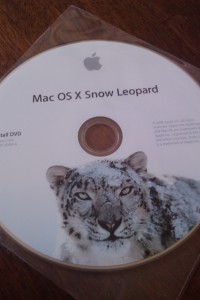 i immediately ran into 4 problems. one of them that big that i decide to write these few lines to warn you about it (since they are essential to me).
the all so new finder is not really well implemented as it seems. finder has problems connecting to samba shares. a working setup under 10.5 (Leopard) was:
a Linux Server with samba shares
user password needed for personal shares
some shares read only for guests as well.
one of the shares that is accessible through a password is my time-machine share. on this net share i run backups from my mbp. see how to do that in this blog post. time machine connected to it automatically.
for leopard i had to add this to the smb.conf to fix issues:
# fixes weird leopard behavior
unix extensions = no
but for snow leopard i had to add this:
encrypt passwords = Yes
because the finder will not connect to servers without password encryption.
this allone did not fix the problem that i could not login. connection to shares that are open for guest users did show, shares that needed login did not.
as it turns out the finder has a little hidden feature called "Numeric passwords ONLY". this means that you have to have a user account that authenticates with a password that only consists of numbers! as soon as i changed that i was able to mount my beloved shares again and time machine seems to work as well.
some users report that finder is quite picky about dns resolution as well… see the forms i linked about that.
the second little issue i had affects boxee. the apple remote seems to handle locks diffently or not at all. whenever is started boxee under 10.5 the apple remote was talking to boxee only. under 10.6 it also controlls itunes and front row whilst i run boxee in the foreground. not so cool!
a third little thing that did not work in leopard either is tether a mac with the htc hero. this apparently works out of the box for linux users but not for mac. what's so hard about that?
a fourth little thing that annoys me is that the new quicktime has no more option to stay in full screen when the focus comes off. this is especially disruptive on dual head setups.
i really really hope that apple will soon release 10.6.2 and fix these problems. i don't get how they could have overlooked these…
No tips yet.
Be the first to tip!
Like this post? Tip me with bitcoin!
14wb1QTnJ4NhBN3MsBT71C3UyMSSeiPbfZ
If you enjoyed reading this post, please consider tipping me using Bitcoin. Each post gets its own unique Bitcoin address so by tipping you're not only making my continued efforts possible but telling me what you liked.