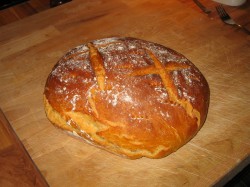 nachdem ich zu weihnachten vom braven christkind eine neue küchenmaschine bekommen habe (die werde ich in einem eigenen posting erwähnen), hab ich beschlossen brot zu backen.
in den endlosen weiten der rezeptsammlung meiner mutter hab ich ein rezept fuer ein gewürzbrot gefunden das mir immer sehr gut geschmeckt hat und das ich ausprobieren wollte.
Zutaten: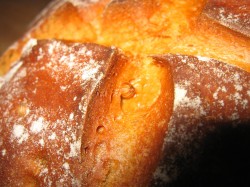 45 dag Weizenmehl
20 dag Roggenmehl
Germ (trocken: 2 Päckchen, frisch: 6 dag)
1/4 kg Topfen
1 EL Salz
1 EL Koriander ganz
1 TL Kümmel ganz
1 TL Fenchel(samen) ganz
~ 375 ml lauwarmes Wasser
alle trockenen zutaten in eine schüssel geben und gut durchmischen. dann den topfen beimengen, anschliessend das wasser langsam zugeben und das ganze zu einem teig kneten. gut durchkneten. eine halbe stunde gehen lassen. durchkneten. in eine gebutterte und bemehlte form geben und den teig darin nochmals gehen lassen. das rohr vorheizen und ein flaches gefäss mit wasser hineinstellen. dann das brot mit wasser bestreichen, einstechen und etwas einschneiden (das ist pure kosmetik

). das ganze bei 250 grad für 20 minuten, dann bei 190 grad für 60 minuten und dann bei resttemperatur für 20 mintuen backen.


Continue Reading »
No tips yet.
Be the first to tip!
Like this post? Tip me with bitcoin!
1DjSHHAyk4ciDw2hJrzLhRBTMz8f66SQCD
If you enjoyed reading this post, please consider tipping me using Bitcoin. Each post gets its own unique Bitcoin address so by tipping you're not only making my continued efforts possible but telling me what you liked.