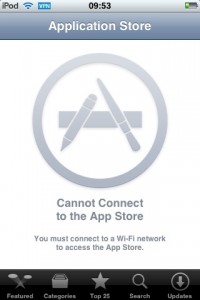 seit der ipod firmware 2.0 funktioniert cisco vpn. das ist unter anderem notwendig um sich auf der tugraz mit einem account ins wlan einzuklinken. sonst geht gar nix.
heute ist mir zum ersten mal aufgefallen dass im cisco vpn auf der tugraz der app-store und der mobile itunes store nicht funktionieren. das problem scheint aber nicht an vpn generell zu liegen. denn beim vpn über L2TP mit hotspot shield bei mir zuhause geht es. entweder liegt es am cisco vpn oder der tugraz dass man den itunes store nicht besuchen kann.
die fehlermeldung find ich am besten: "Cannot Connect to the App Store. You must connect to a Wi-Fi network to access the App Store." hmmm am ipod komm ich gar nicht anders rein… und wie man sieht bin ich in einem wlan, aber das scheint die standard meldung zu sein wenn sie einen nicht verbinden wollen/können.
No tips yet.
Be the first to tip!
Like this post? Tip me with bitcoin!
1Lo6scMD4QDKq93BTd6VMx6byXNNP3uW7F
If you enjoyed reading this post, please consider tipping me using Bitcoin. Each post gets its own unique Bitcoin address so by tipping you're not only making my continued efforts possible but telling me what you liked.