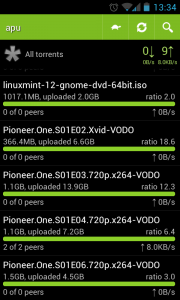 i'm using bittorrent for downloading. more precisely the transmission daemon on my home server for the heavy lifting (downloading torrents). to administer the downloads the web frontend is perfect. in the background runs the transmission daemon which handles the torrents and accepts requests of all sorts of clients. you can even pass magnet links you clicked, from your desktop to the remote daemon with a little hacking.
To get the same comfort for your android device (phone or tablet), you need an app. i'm using transdroid, which currently is NOT available in the google play store (former android market). get the latest transdroid apk here.

Before you install transdroid you might want to read a little about the app on the transdroid website. Further you need to allow apps from 'unknown sources' in your android settings. Download the app via the link above or the QR-code (get a qr-code reader here).