I've had a consumer UPC internet connection for years now. The product should deliver 75Mbit/s download and 7.5 Mbit/s upload speed.
I am monitoring the performance of my bandwidth automatically. So when UPC forced a modem 'upgrade' on me, I immediately knew that the performance of my connection dwindled. That was at the end of January 2018. A, until then, somewhat decent bandwidth of an average of 71 Mbit/s came down to about 40 Mbit/s.

The old cable modem was a modem only device. It was black and wall-mountable. The new modem is a white designer piece and offers full router and WiFi capabliliy. It is not wall mountable and that is slightly impractical. But I am using this WiFi capable cable modem as modem only. There is a setting that allows simple modem use, which disables all WiFi and smart-router features. I've my own router behind it.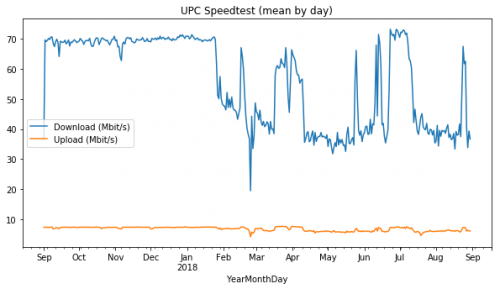 The graph clearly shows the drop in performance after the modem 'upgrade'. One can only speculate what the reason for a little recovery in July is. In July of 2018 the performance came back – which could be due to less usage in the network, as it coincides with school holidays. I do have no proof for that though.

As the speed did not improve, even after hours spent with the hotline, and multiple resets and even an active cooling attempt – I opted for another modem switch. Same type of modem – but I switched everything: modem, power supply, cables etc. This was at the beginning of December 2018.

It had no effect.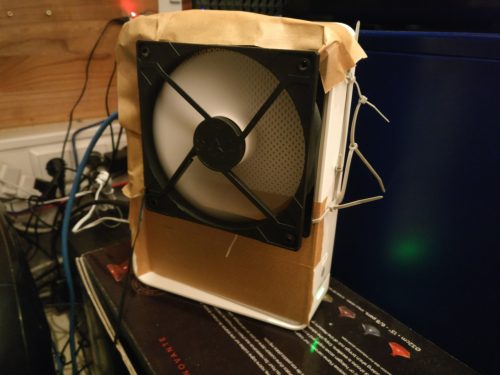 To make things worse, the modem worked fine for about 12-18 hours after a power cycle. So the hotline would tell me to power-cycle the modem and connect my laptop directly to it, to test for speed. Of course it worked fine then: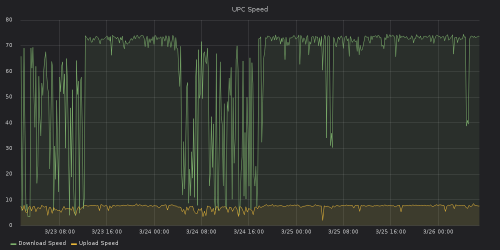 I kept mentioning the issue to a friend, who has connections to T-Mobile (UPC). He mentioned that it might not be a hardware but a firmware problem. Why the support hotline didn't know that I will never know. I opted for a firmware update of the modem – and voilà – the connection is where it should be: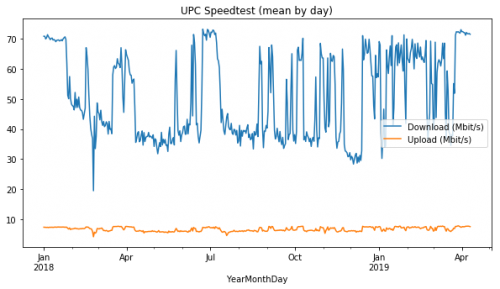 It seems UPC has been distributing modems with (ancient) firmware (April 2017), that don't fit their infrastructure any more. And instead of pushing a new working firmware to new modems, they swap brand new modems and keep customer satisfaction artificially low.

I'm happy the issue is solved now. But I'd rather spend less time debugging issues that my provider should fix on it's own. I can't wait for legislation that would allow customers to run their own modems!
You can find my data analysis for this blog post here (2017-09 to 2018-08) and here (2018-01 to 2019-04).